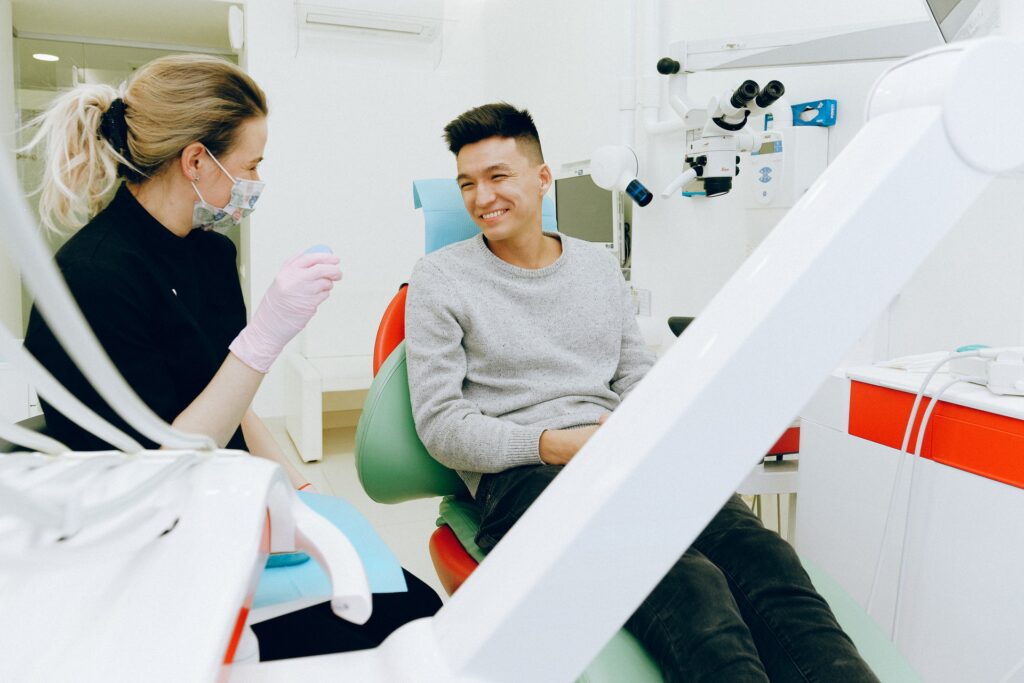 Maintaining a good dentist and patient relationship is one of the most important factors to success in dentistry. Achieving a good relationship with patients requires understanding, respect, patience, and consistency along with how you present yourself, how you interact with your patients and how you can guide them through what could be a very stressful time all play an important part in patient satisfaction.
Communication is the key when it comes to maintaining a good relationship. The first step in maintaining a good dentist and patient relationship is communication. You need to be able to establish a good rapport with your patients and ensure that they feel comfortable talking about their concerns.
"Help me understand" is a three-word statement that has a lot of power in overall practice communications.
"Help me understand your concerns about the treatment?"
"Help me understand your concerns about radiographs?"
"Help me understand your oral care habit"
Starting talks with genuine concern and care reduces possible defensiveness and reduces antagonism on all levels.
-Debra Engelhardt-Nash, DebraEngelhardtNash.com
Good communication is essential in any interaction, but it's particularly important in a clinical setting. Whether you're a dentist or a patient, you want to be able to express your needs and concerns without feeling as though you're being judged. In order for this to happen, both parties need to feel like they are on an even level when communicating. A good dental treatment plan needs to be an open conversation between you and your dentist. Without both parties communicating well, the treatment may not be as effective or comfortable for you as it could be. Set up regular appointments so that you can have a chance to talk about any problems or issues you are having with your teeth or mouth.
Understanding the patient 
Take the time to get to know your patients, especially during the first few visits. Start with a firm foundation because this new relationship could last for years. The importance of trust is crucial. Listen to the patient and talk about their issues. Control your expectations. Real options, not simply ideal results, should be discussed.
Encourage the patient to express his or her worries as they occur, and be ready to respond to and address them. Check-in at each appointment to see if the patient is happy, unhappy, or concerned about their treatment's progress.
Ascertain that the patient is familiar with the office's policies and procedures. Offer to write them down and give them to the patient.
Encourage the patient to bring an interpreter if there is a language barrier.
Consider the following factors that may make a patient appear resistant or uneasy: Previous dental, medical, and/or personal experiences; Underlying disability or health condition (including mental health or cognition disorders); Financial limits; Cultural differences.
The patient relationship is key for success in a dental practice. How do you get there?
The first step is to listen to your patients and make the effort to get to know their life stories. Create opportunities for your patients to open up and share with you, and be sure to ask the right questions.
The next step is to communicate effectively. Show interest in what your patients have to say, and always find a way to relate back to what they are telling you, in terms of your recommendations for treatment. This is an important part of building trust and rapport, which will ultimately lead to more referrals
Conclusion
While it's true that a healthy smile can boost your confidence and improve self-esteem, it's important to have the right dentist. And not just any dentist! Dentists should relinquish more control and play a more active role in recognizing and appreciating their patients as persons. Furthermore, dentists must focus on developing a strong sense of trust that pervades all parts of dentist-patient contacts in order to establish a successful relationship and continuity in the treatment process. We welcome any questions or comments you may have by visiting our website today. Check out our blog page to know about dental marketing and new trends in dentistry.